I'm excited to be participating in the second week of Angela from
Harrells on Hood
's link up about 30 days of Thankfulness.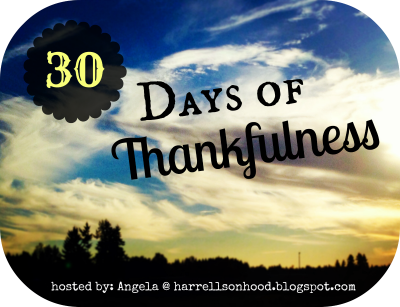 I love that we actually take the time to remember what we're thankful for at least once a year, but I hate the facebook ones where you're inundated with people's posts every single day, so I love that Angela is hosting a weekly one instead.
I have a lot to be thankful for right now, so I decided to create my thankful list off of things that happened that day. I hate that most people's thankful lists read like rankings of who they love the most: day one is like I'm thankful for my husband followed by my children and by the end of the month people are scratching the bottom of the barrel for things on their importance skill that they're thankful for; so I thought it would be fun to find things in the events of each day to be thankful for, instead of ranking what I'm thankful for.
November 8th:
I am so thankful for my husband. The 8th is his birthday it's it wonderful that it falls in November so I can remember to be doubly thankful for him. He always pushes me to do more and try new things and stretch my abilities which I love love love. It's not easy getting out of your comfort zone, but it's rewarding.
When we were practically babies, on our honeymoon.
November 9th:
I love this one, I am thankful for surprises. I am a huge surprise person, so I love planning surprises for other people as well as being the recipient of surprises. Hal's little brother and I surprised Hal with a wonderful, but expensive trip to Fogo De Chao for his birthday. We had him all sorts of confused about where we were going and who was going to be there, it was the perfect surprise for his birthday.
November 10th:
I am so thankful for family. Can you ever be thankful enough for family? Hal and I both have the most wonderful families, and we are so lucky to fit right into each other's family like we were always meant to be apart of the family. I cherish that so much. Hal's little brother came down for his birthday as a semi-surprise to celebrate with us.
This is why family is awesome.
November 11th:
I love food. You offer me free food, and I will be there. Don't check my purse because I might have stolen some food for later if it's really good. I am thankful for good food that can be good to our bodies, and stores like Sprouts and Trader Joe's that make it easy and cheap to eat good food without all of the chemicals and crap that is in most of America's food today.
Side note: Sprouts, please come to DC, I miss your sales!
Even their unhealthy food is better than normal grocery store food.
November 12th:
I am so thankful for the kindness of people in this world. I have met some of the most fantastically kind strangers, and been able to work and make friends with wonderfully kind people. My boss was so kind and gave me two tickets to a play he couldn't attend. Hal and I appreciated it so much and loved the play.
November 13th:
Traveling is my favorite. Hal and I have been able to travel and live in some of the most beautiful locations all across the world, and while traveling always comes with it's own set of challenges, the experiences and memories make it more than worth it. My work sent me to New York for the day, and while work travel and personal travel are totally different and work travel is exhausting, it was so fun to go up for the day.
I got to see the Rockefeller Plaza tree, even if it is covered in scaffolding.
November 14th:
DC has been amazing to Hal and I. I am so thankful for the opportunity we have to live in this city. We debated about what cities we wanted to live in a lot before coming out here. We were seriously considering San Francisco and New York. After being in New York for the day yesterday, and even though it's such a cool city, I am so glad that we have ended up in DC.