I'm excited to be participating in the third week of Angela from
Harrells on Hood
's link up about 30 days of Thankfulness. I can't believe It's we're already three weeks into November!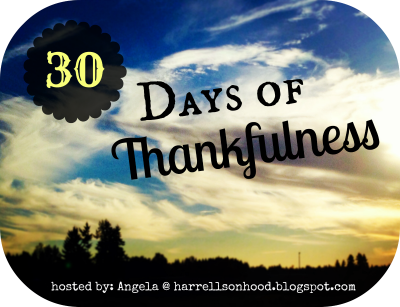 I love that we actually take the time to remember what we're thankful for at least once a year, but I hate the facebook ones where you're inundated with people's posts every single day, so I love that Angela is hosting a weekly one instead.

I have a lot to be thankful for right now, so I decided to create my thankful list off of things that happened that day. I hate that most people's thankful lists read like rankings of who they love the most: day one is like I'm thankful for my husband followed by my children and by the end of the month people are scratching the bottom of the barrel for things on their importance skill that they're thankful for; so I thought it would be fun to find things in the events of each day to be thankful for, instead of ranking what I'm thankful for.
November 15th:
I love having amazing conversations with new people, or old friends and so for November 15th I'm grateful for having fun co-workers. Hal's co-worker had all of the interns over for dinner, and we had such a blast. It just so happens him and his wife know pretty much everyone at my job! I had a wonderful deep cultural conversation with Hal's Israeli co-worker, and we had such a blast reading
Hypertheticals
all night long.
November 16th:
I love how much we can learn from the past. There are so many amazing museums here in DC and we're just starting to take advantage of them. Hal and I went to the Holocaust Museum in DC which is utterly heartbreaking and amazing at the same time. Afterwords we went to see The Book Thief, which is also about WWII and one of the only books I've ever cried at. Such an amazing movie, such an amazing museum. We can learn so much from what humans have done in the past.
She was a gorgeous model who was killed for being outspoken against fascism.
November 17th:
I am utterly grateful for church. While some Sundays the last thing I want to go is spend 2 hours with screaming, crying, pooping kids, most Sundays I feel utterly uplifted from going to church. And even 2-3 year old's need/love to learn about Jesus.
November 18th:
This is going to sound terrible, but I gotta be real. I'm thankful for TV. Sometimes a dumb reality show is the only way I can turn my brain off at the end of a stressful day. Watching TV is the only way I can work out for long periods. It occupies enough of my brain that I forget working out is terrible. I am thankful for how talented some people are in TV. Nothing makes me laugh like a little Mindy Project.
November 19th:
This one also may confuse you, but I love love love having snapchat. I have gotten all of my sisters on it. I snapchat with my sisters kids all day long some days. It is the best thing ever when I'm living 2,000 miles away from them. I am kicking myself for not taking more screenshots of snapchats from my nephews and nieces. I guess it's the modern day way of staying in touch with cool kids?
November 20th:
I love people that are hilarious. And I love messing with people. This week I reconnected with one of my favorite people on Earth, and she sent me a text, and I couldn't turn down the opportunity to mess with her. I'm thankful for the opportunities to mess with people, in a good way.
November 21st:
I can't even tell you how excited I am about this one. I am eternally grateful for the opportunity to go home for Christmas and New Years. I've never been home for the holidays knowing that I'll be leaving and having no idea if I'll ever live in Utah again. So I am savoring the idea of going home for two solid weeks. We should be home in about a month or so, and I am just counting down the days.
See past week's
thankful lists
.
Go check out
Angela's blog
for more 30 Days of Thankfulness.