I'm excited to be participating in the last week of Angela from
Harrells on Hood
's link up about 30 days of Thankfulness. I can't believe It's we're already three weeks into November!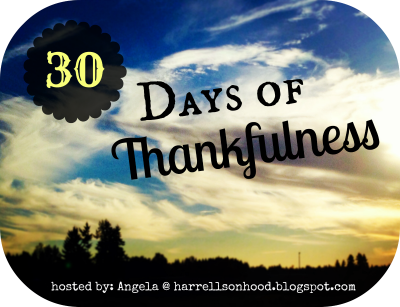 I have a lot to be thankful for right now, so I decided to create my thankful list off of things that happened that day. I hate that most people's thankful lists read like rankings of who they love the most: day one is like I'm thankful for my husband followed by my children and by the end of the month people are scratching the bottom of the barrel for things on their importance lists that they're thankful for; so I thought it would be fun to find things in the events of each day to be thankful for, instead of ranking what I'm thankful for.
November 22nd:
I love those relaxing evenings where you have a nice dinner together, watch an interesting documentary and just relax together. Since I started working full time it seems like we've had less and less of these nights, but as we're moving closer and closer to being apart for 4 months I'm cherishing all of these evenings.
November 23rd:
We love having people in town. It's nice to finally live in a place that people come to visit, and there's really no better feeling than having people come into town and reach out to see you. Nothing makes me feel more loved than people coming to town and wanting to hang out with me. I'm so sad that I didn't take a single picture of our fun evening with Rachel, but here's an old Cambodia picture.
November 24th:
NAPS. Really, do I need to say anything else? Who isn't grateful for naps after a late Saturday night and 9:00 am church on Sunday?
Don't tell Hal I posted this hilarious picture of how he sleeps with a pillow on his head.
November 25th:
I am so thankful for those moments of extreme motivation. When we first came out here I wasn't working and I was so unmotivated to do anything. Slowly I've been getting my motivation back and it feels so good to get some progress made on things I've been putting off for so long.
November 26th:
I hate hate hate to say this, but really, I'm grateful for the gym. Not any gym, my free gym at work, because not only is it free for me, almost every machine has it's own personal TV, which I have discovered is the only way I can workout long term. Hal's motivation to go to the gym daily, plus a free gym has finally led to me working out regularly and my body feels so much happier.
This is what happens when you forget socks in your gym bag

November 27th:
November 27th:
How can I phrase this? I'm so thankful for all that Cambodia taught me. It taught me so much patience. It taught me our 5 1/2 hour bus ride to New York is nothing after our 8 hours minimum bus rides to Phnom Penh on terrible roads. It has taught me how to not be so rigid with changing plans.
November 28th:
I am so thankful for the opportunity to be with family and people that I love on holidays. I'm a big holiday person and love spending those days with people that I love and enjoy. This Thanksgiving we not only got to see my niece in the Macys Thanksgiving Day Parade, but we got to spend Thanksgiving dinner and evening with my niece, brother in law, and a favorite Peace Corps friend.
November 29th:
I'm definitely someone who loves family traditions. To me, it helps me feel closer to my family now that we're all spread apart. Growing up my mom always took us Black Friday shopping and as I've gotten older, and especially since she's no longer around to do it with us, I know my siblings and I still cherish Black Friday. I'm sure that sounds crazy to some, but we have a good time on Black Friday and usually go out to breakfast after we're done. Since Hal and I weren't with any family this day after Thanksgiving we went Black Friday shopping together. While shopping near Times Square was pretty nuts, we saved a lot of money and got half of our list done in one day.
I love reading. That's pretty much all I did at my last job, so while I love actually having work to do, I miss the endless time to read. There's nothing like a good book that draws you in, until you feel like you're a part of the book.
I'm so glad that I got to participate in this challenge and think back on each and every day and find things that I am so thankful for. Hopefully I can keep this up like
Autumn
does and do a monthly post.
See my previous
thankful lists
.
See Angela's
thankful posts
.